With lots of useful features, this brilliant integrated larder fridge from Bosch will take excellent care of your fresh food. It has a 319 litre capacity, so it'll have no problem holding 17 shopping bags full of succulent meat, flavoursome cheeses and healthy vegetables. Whatever's inside, Active Cooling technology circulates chilled air around every level of the cabinet, keeping everything at a constant temperature so your groceries stay fresher for longer. The clever varioShelf is adjustable too, so you can easily make room for taller items. And, thanks to the Air-Refresh filter that keeps bacteria at bay, your fridge stays odour-free. This appliance is designed to fit in a tall cabinet.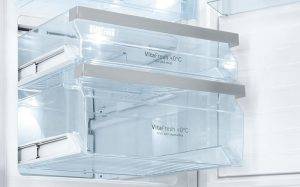 Thanks to the fully extending telescopic rails, it's easy to add and remove food from your Bosch fridge. With the pull-out glass shelves and dividing shelf areas, you can see and reach all stored food.
This model has a fixed hinge. This means that, unlike a sliding hinge, both the appliance door and your cabinet door are attached to the kitchen unit by the same hinge, and will move as one when you open it. Please check that your old appliance had a fixed hinge, or that your cabinet door has pre-drilled holes for one, or this model won't fit.